First Time?  Welcome!
Your complete guide to your first class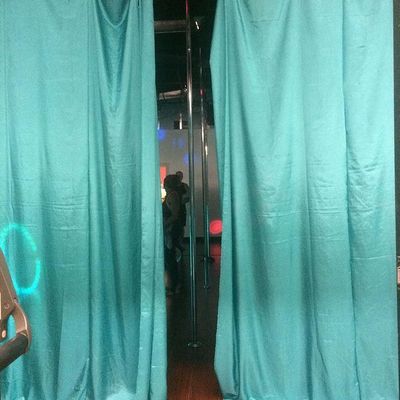 How do I sign up?  Do I need an appointment or can I walk in?
Click here to create your account on Mindbody to begin scheduling your classes. Create my account
Registering for classes is highly recommended as every Group Class has a maximum capacity, and some of our more popular classes fill up quickly. However, we do allow walk-ins if there is open space in class.
When Group Classes are full, you can sign up to be on the waitlist. When another student cancels their spot in the class, you will receive a notification letting you know that you have been bumped into the class and are no longer on the waitlist. When signing up for the waitlist, please expect to attend leading up to 2 hours before class. If you are not sure you will be able to make it, please remove yourself from the waitlist before the system has a chance to enroll you into the class and to avoid being charged for a late cancel or no show.
Groupon users - After you purchase your Groupon, give us a call at 512-477-7653. Please do not redeem your Groupon until after you have called us. Your Groupon is valid for 6 months; however once your Groupon is redeemed, you will only have 30 days to use your classes.
What classes can I take?
All new pole students start with a Pole 1 class. You'll be at this level until you take a Level Assessment and have instructor approval to move up to Pole 2.
We also have dance, fitness, and stretching classes that do not have prerequisites. Click here to see what classes we offer. Class Descriptions
How soon can I sign up for classes?
Classes open for enrollment 10 days in advance.
What do I wear for class?
Pole Classes - Always wear short, form-fitted shorts which expose the tops and insides of your thighs. You can wear a sports bra, a sleeveless shirt, and layers on top. Please do not wear loose clothing, hand or wrist jewelry as they will either cause distractions or scratch the pole. Please do not apply any lotions or cream on your legs, arms, or hands on the day of the class as they will make your body slippery and prevent you from gripping the pole properly. Stilettos are not allowed in Pole 1 classes but are encouraged in all other pole classes. Bare feet are always a good option and ballet slippers are also allowed. Socked feet are usually too slippery for pole classes. Knee pads are also encouraged.
Dance, Fitness, and Stretching Classes - You may wear form-fitted shorts or leggings and layers on top for all dance, fitness, and stretching classes. Bare feet and knee pads are encouraged for Twerk and Burlesque classes. High heels designed for dancing are optional for the Heels Choreography class, and clean sneakers are recommended for the Hip Hop Dance class. Dressing in layers to stay warm is highly recommended for stretching classes.
What else should I bring to class?
Please don't forget to bring your own water. If preferred, you can also bring your own yoga mat.
What should I expect inside the studio?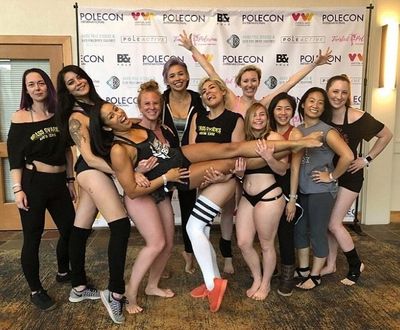 Is it OK to be nervous?   What if I'm not graceful or athletic at all?
You might not get every move in your first class, and that's OK. You also do not need to be "in shape", a dancer, or an athletic person to enjoy and benefit from our classes. Our pole level program is designed so that all new students start at Pole 1 and progress at their desired pace. We have all started by learning the pole fundamentals and have built strength over time before doing more advanced moves. Feeling and looking graceful will also come with time and practice. Don't get distracted if you see a student doing something more advanced, and don't be afraid to ask your instructor questions.
The best thing about our studio and diverse pole community is that we love welcoming new people into our pole family. Pole dancing will boost your confidence once you see what your body is capable of, and you might be pleasantly surprised when you go from not being able to or not believing you can do a move to actually nailing it and the applause that follows when everybody sees you achieve it.
So congrats on getting outside of your comfort zone! Don't be nervous, and remember, just have fun!
Can I arrive early for class?
You are encouraged to arrive at least 10 minutes early to allow time to check-in and address any concerns with reception.
What poles do you have in the studio?
We currently use 45mm stainless steel X-Poles in the studio. All poles allow for both static and spin mode.
What's the format of the class?
A typical class format includes a warmup, classwork, and a cool-down. Expect the warm-up to last for 10-15 minutes that may include cardio, active flexibility, and bodyweight work. Pole level classes may start with pole conditioning and then focus on specific moves from the "color" routine while dance and pole choreography classes will work on instructor-created choreographed sequences. Near the end of class, you'll do a cooldown and are allowed time to record what you learned.
What are these bruises?
We call them pole kisses! You might have some bruising depending on what you worked on, such as the top of your feet when you first learn how to climb. Don't worry, as your skin becomes conditioned, you won't get them as often. Arnica Gel can help reduce the appearance of bruises.
What other pole classes can I take besides Pole 1?
We offer pole choreography classes. While they are open-level classes, we recommend that you have taken at least 5 pole classes before signing up. Try them all!
Afternoon Delight is perfect for beginner polers and those that want to improve their flow and floorwork. Pole Flow Basics is about finding your own unique expression in your movement. Pole Therapy is about reconnecting with your body. Sexy Flow is less about tricks and more about being present and connecting with your own sexuality. Heels Technique will help you learn how to dance in your new stilettos and work towards making your heelwork look effortless.
What do these colors in parenthesis mean?  And how do I get into Pole 2?
Our Level Program includes a curriculum of moves within 6 "color" routines that changes every 2 weeks to help our students practice and progress safely. We encourage students to move through the class levels at their own pace. All students can move to the next level by requesting a Level Assessment with an instructor.
A list of required moves to pass the level can be provided prior to the Level Assessment. While it is not a requirement to have attended all "color" routines, the student must be able to perform these moves comfortably and confidently in order to pass. After moving up a level, students are still welcome to review lower levels.
What are the Pole Intensive Workshops?
Our Pole Intensive Workshop is a 4 week "fast track" workshop that is ideal for students who want to get a quick overview of the entire Pole 1 or Pole 2 curriculum or review what's important to know for the Pole level assessment. This is designed to be an intensive workshop and is not included in Group Class passes nor Memberships. Click here for the next Pole Intensive Workshop. Pole Intensive
Should I get my own pole?
No, but once you begin, you'll probably want to get one! There are a variety of pole brands that sell tension-mounted, temporary poles that can be easily installed with no drilling, screwing, or damage to your ceiling. You can buy your own pole here. Or, contact us - we sell poles and mats on a lease-to-own program.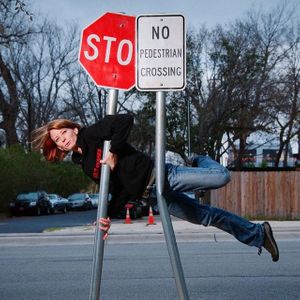 How long will it take to master pole?
Like any other athletic discipline, mastering the art of pole requires dedication, patience, and lots of training. Most people practice for fun and fitness, but if you become interested in competitions or becoming a professional, we can develop a training and cross-conditioning regimen that will put you on the safe track to mastering those high-flying skills.