ODETTE
Odette's pole dancing addiction began during a bachelorette weekend in 2010. She returned home, took her first class at Brass Ovaries, and couldn't move the next day! She quickly purchased a pole and began training almost every day, discovering it to be an exhilarating and liberating experience that also served as physical and mental therapy during difficult times. She attributes pole dancing to her transformation into the strong, confident woman she is today.
Odette competed in her first competition as a Miss Texas Pole Star Fitness Category Finalist in 2012. She has also won numerous awards as a doubles partner in Duo Et Cetera, including 2014 Miss Texas Pole Star Doubles Winner, 2014 United Pole Artists Video Challenge Doubles Winner, 2013 Capital of Texas Pole Championship Partners Pole 1st Runner Up, and 2013 Miss Texas Pole Star Doubles 1st Runner Up.
Odette is happiest when she is able to assist others in achieving their own pole goals. She began instructing in 2012 and holds certifications in XPERT Pole Fitness, Spin City Anatomy & Physiology Foundations, Spin City Stretch & Flexibility, Spin City Pole Fabric, TriggerPoint Foam Rolling, and Kinesiological Stretching Technique.
Odette is the Vice President of the United States Pole Sports Federation (USPSF), the national federation working to have Pole Sports recognized globally as a sport and eventually included in mainstream sports events and the Olympic Games. She is also a Pole Sports and Arts World Federation (POSA) / USPSF Certified Pole Sports Judge. Her involvement includes serving as a Judge for the POSA Pole Sport World Championships in 2018, 2021, and 2022; Head of the USA Delegation for the POSA Pole Art World Championships in 2021 and 2022; Judge (2018 to 2020) and Head Judge (2021 to 2022) for the USPSF National Championships; Judge for the USPSF Texas Regional in 2018; and Judge for the US Pole Dance Federation (USPDF) Battle for Armageddon in 2017.
ZAFTIGG
Zaftigg von BonBon is an over-the-top burlesque performer who never met a boundary she couldn't tease into submission. A true student of Mae West, Zaftigg ardently believes any audience that can be shocked should be shocked more often! She is currently a performer and co-producer of Black Widow Burlesque (the Austin troupe known for "Keeping Burlesque Weird"), a member of Fat Bottom Cabaret's Midnight Menagerie shows, and performer with Austin's Naked Girls Reading.
Zaftigg brings a fierce attitude to her performances and is known around Austin for the crazy things she can do with her derrière on stage and her penchant for making her audiences squirm in their seats. She has been a student of pole at Brass Ovaries since 2013 and is over the moon to share her brand of burlesque with the community!
MICHAELA
Michaela discovered the power of dance and what it can do for a person at a very young age. Michaela took ballet, tap, jazz, high-step/showdance, hip-hop classes but found a love for the art of Twerking. She is a Twerk Scholar from La Marque, Texas. She starting Twerking in her mother's living room in 5th grade, but really picked up the art of it in 2013.
Michaela teaches Twerk Fit, empowering women to take their bodies back for themselves, and to feel comfortable with what they have. She invites everyone to be a Twerk Scholar and understand where Twerking comes from, the different types of Twerking, and the power that a woman can have over her sexuality from solely Twerking.
JENNI
Jenni has been playing with flow props since the third grade when she first picked up a baton. Since then, she's tinkered with many props, but when she picked up a hula hoop two years ago, she found her passion. She loved that a plastic circle could provide an outlet for creative expression and an opportunity to burn calories while providing a constant challenge to learn new moves. She was also excited to find some cardio that wasn't boring! She's excited to have the opportunity to share what she knows and help others discover their own flow.
ROXIE
Roxie Moxie is a glam-punk-rockin' streak of flash and sass. As a classically trained dancer and burlesque striptease artist, Roxie took up pole dancing in 2014 and has since unleashed her inner pole monkey with abandon. Roxie is also Top Tease at The Burlesquerie where she produces large-scale burlesque, pole, and aerial shows; and she teaches regularly at the Austin Academy of Burlesque.
KOREY
In search of empowering exercise for both the mind and the body, Korey began her pole love affair at the start of 2017. She began taking classes for fun, but after witnessing the execution of an Iron-X in heels, she knew there was much more to pole fitness. In 2019, Korey applied her love of pole toward her achievement of the Xpert Pole Instructor Certification, Levels 1-4.
Since her certification, Korey has discovered a true passion for teaching, as she thrives within holding and creating space for each unique individual to grow; she wants all of her students to feel acknowledged and seen, both in the present and in the person they aspire and strive to become. Korey is here for both the conquering of nemesis moves and the "hey man, I just showed up today" moments - so when in doubt, she has your back! Korey believes in community, and she cannot wait to explore movement together!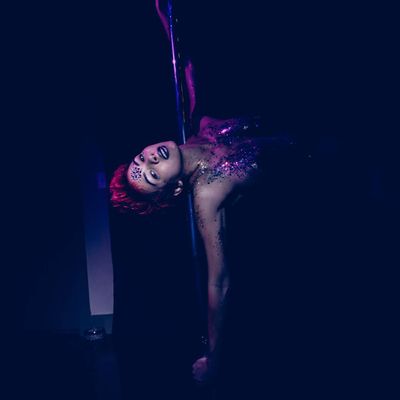 DOM
Dom is originally from the Rio Grande Valley and moved to Austin in 2015. After two years of living in Austin, they stumbled upon a Groupon for pole classes at Brass Ovaries and have since been a regular student. After getting certified in 2021 they started their teaching journey with the intent to share their love of pole, while also bringing positivity and creativity to the studio. Pole has personally given Dom a healthy outlet to freely express themselves through movement while also allowing them to make lifelong friends.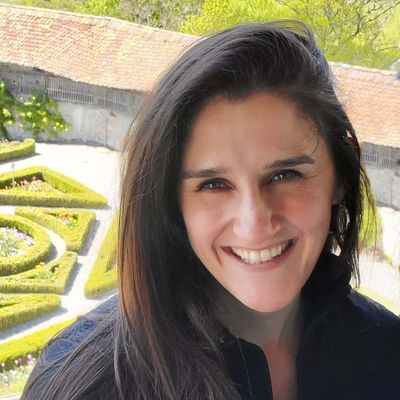 KATY
Katy fell in love with being upside down at a very young age and never found a cure for it. She spent over a decade doing way less impressive gymnastics than Simone Biles and Chellsie Memmel. Then she spent many barren years with no official reason to be upside down. Luckily, she found Brass Ovaries, pole, and a new way to make the world topsy turvy in 2018.
Katy has been teaching or coaching in some capacity most of her life, and she is thrilled to share her love of upside-down balancing with the Brass Ovaries community!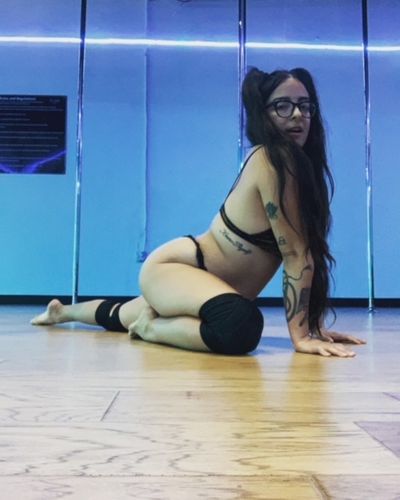 RO
Ro considers dance to be an important, if not necessary, form of human expression. Having been a dancer all her life, she believes that exploring emotion through movement while connecting with music is one of the most cathartic forms of art and expression.
Having been trained in many disciplines, from Flamenco to Ballet, Jazz, Hip Hop, Tap, Belly dance, and Modern, she has learned many approaches to self-expression.
Ro found the world of pole in 2015 when she decided to take a class at Brass Ovaries after hearing about their performances. She quickly learned that pole, although flowy and beautiful, is more like a sport where endurance and strength are key. Ever since she has been working towards her goal of becoming a stronger dancer. Now Xpert Certified, she hopes to share her passion and knowledge by teaching those curious about pole and self-expression.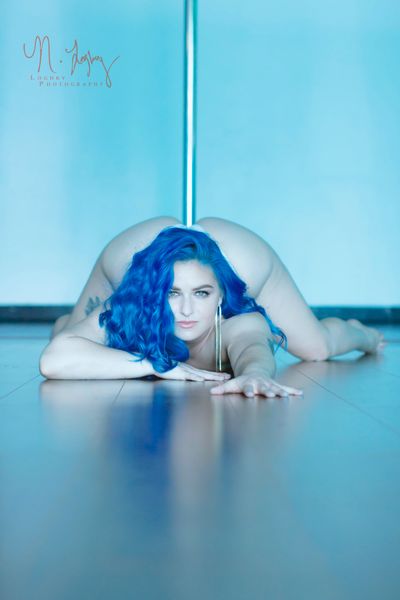 BEX
When a wonderful friend brought Beth to Brass Ovaries in late 2016, they are not a dancer, they were not in touch with their body, and they had no idea how to be sexy. Luckily, there were some bomb-ass goddess instructors at this glorious studio who took this self-conscious, awkward little person under their magnificent bad bitch wings and helped her become a strong, empowered, sexy person. And now this dangerously confident lady hopes to pay that incomparable gift forward to as many people as possible. They'd love for you to join their classes for some joyous poling and some naughty dancing!!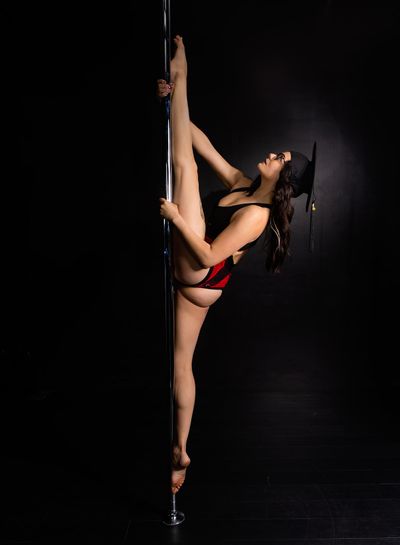 JACKI
Jacki Moon is a queer pole, yoga, and flexibility instructor. She is Xpert and 200-hour YTT certified and holds a masters degree in rhetoric. Her master's thesis was on the rhetoric of bodies and the intersection of pole dance.
Jacki fell in love with movement practice when she stumbled into her first yoga class nearly 10 years ago. Jacki later fell in love all over again when she discovered home within the pole community. She loves the bendy and flexy shapes of pole, and encourages her students to stretch regularly! This shapeshifting obsession comes out in her teaching style.
Jacki's goal is to always foster a safe environment where students of all backgrounds and identities feel safe and seen to develop strength and confidence.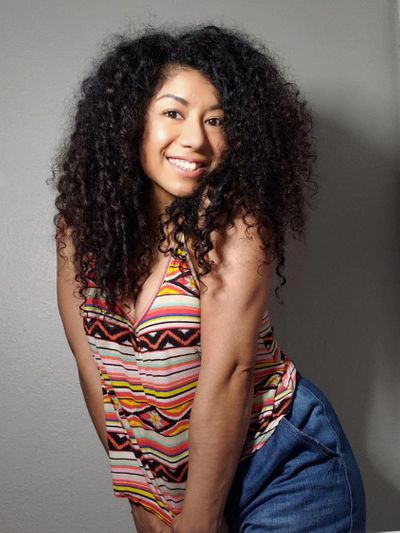 GABY
Born and raised in Mexico, Gaby started her Fitness & Dance career in the early '90s. She became a fitness instructor in 1996 and in 2007 she began her career as an entertainer as an aerial dancer opening concerts, music videos, and commercials. Gaby even directed her dance company in Mexico; which marked a cultural generation.
Gaby moved to the United States in 2014 to begin her journey as an international entertainer.