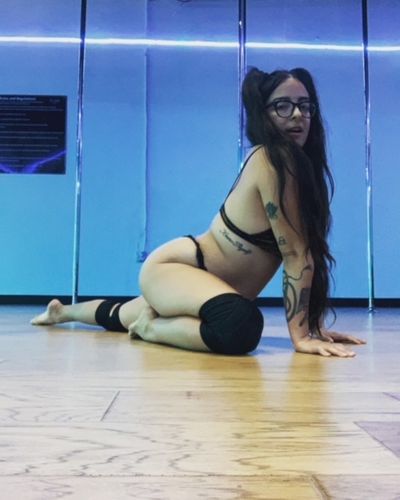 RO
Ro considers dance to be an important, if not necessary, form of human expression. Having been a dancer all her life, she has found that when dancing she is able to release her emotions in ways that are not comparable in language. She believes that exploring emotion through movement while connecting with music is one of the most cathartic forms of art and one of the only ways in which the complexity of the soul can be explored.
Having been trained in many disciplines, from Flamenco first while growing up in Seville, Spain, to Ballet, Jazz, Hip Hop, Tap, Belly dance, and Modern later on (when her mom would drop her off at the local dance studio after school instead of paying for a babysitter) she has learned many approaches to self-expression.
Ro found the world of pole in 2015 when she decided to take a class at Brass Ovaries after hearing so much about them and their performances. She was looking for a new way to express herself; a way in which she could explore a more sensual side to dance. She quickly learned that pole, although flowy and beautiful, is more like a sport where endurance and strength are key. Ever since she has been working towards her goal of becoming a stronger dancer. After being granted a scholarship for an Xpert Certification, she hopes to use the opportunity to share her passion and knowledge by teaching those curious about pole and self-expression.